A great variety of races to catch up on this week! Although not chronologically first, we'll kick off with the championship race, Bamburgh 10k. Even though it was on road, it was a pretty run with only a few bumps on the course. Chris Dwyer was first Stroller and 8th overall in a gun time of 36:24. Mike Hobson and Luke McCormack were 2nd and 3rd respectively. We also had prize winners in FV60 category and V65 – well done Lyne Valentine and Derek Wright.
The iconic Blaydon Races saw a good number of Stroller lads and lasses running along Scotswood Road. Aly Dixon was first Stroller home, 30:45, with Mark Anderson next home in 32:26. Excellent!
Andrew Forbes had a trip to the Keswick Mountain Festival and bagged himself 3rd place in the 5k. Well done!
A few Strollers headed to the NYM for the Hardmoors Wainstones races. Good value as ever, I expect they ran more than a half or full marathon. Peter Myerscough brought home the bling, adding to his superb performance last Wednesday at the Ozzy Oiks run – running exceptionally well, great going Peter!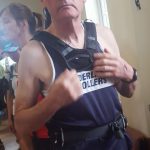 The challenging Durham Coastal Run also took place on Sunday and Wendy Chapman continued her winning streak, finishing 1st lady – magnificent running on a very tough half.