Yes, it was over a week ago but the Gateshead 10k was busy with Stroller runners and marshals. We had a group of our graduating beginners taking part, most of them donning a Stroller vest and racing for the first time. It was a warm day but smiling was the order of the day for this group! We also had a more seasoned, albeit youthful, Stroller storming into 16th place – great running Drew Davison, very well done!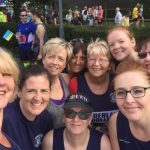 Oliver Rutson also covered the 10k distance, completing Leeds in 48:29; good stuff.
On Thursday, several of our fast lads, along with lots of other super Strollers, ran the fast Sunderland 5k race up at Silksworth. Three of the speedies broke 17 minutes. Mark Anderson was first Stroller in 16:47 with John Cook second in 16:49 and Andrew Forbes in 16:51. Great running lads.