The trail championship listed Chapel Top Fell Race as one of its jaunts out and last Tuesday FGT, Chris Dwyer, Luke McCormack, Mal Cox and Ray Maynard headed down to participate. Well done fellas – apparently it was 'just like Fusedale only steeper and half a mile longer'!
Wednesday was the Durham City run with a good number of Strollers turning out. Again, nice to see some of our latest beginners donning a club vest and racing. Also a big well done to Lyne, first FV60.
Lyne also ran the Northumberland Coastal Run on Sunday. Who knew she'd incorporate a bit of hurdling!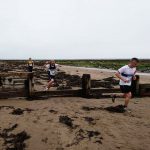 On Sunday, DanAnderson and Katie McCormack became Outlaws. They covered 140.6 miles in a swim  , run and cycle. Dan finished in 11:39 and Katie in 16:21. Absolutely awesome!