The headline is an LL100/50 creation but certainly reflects the wonderful weekend had by participants, marshals and supporters. This year was wet. Trench foot was likely. Smiles still remained on the faces of Strollers!
At 6pm on Friday, Ken, Pete, Ant, Paul and Luke set off from Coniston on a gruelling 105 miles. In a race like this, there can be no guarantees, no certainties. Paul reached Boot, Ken blasted to Dalemain, Ant to Kentmere and Pete to Ambleside. Four mighty fine, very experienced runners who just didn't get there this year – proving that this is a beast of a run. Luke, however, completed the 105 in a marvellous time. This young man paced himself to perfection and I'm sure he'll be back again to chase the Stroller record! Massive respect for all who toed the line and brilliantly well done to Luke Kennedy.
The 50 race was also well represented again. At 11:30 on Saturday John, Jamie, Hasina, Michelle, Bill, Paul, Mark, Clare, Rachel, Terry, Tom, Lesley, Jenna, Jim, John, Luke, Louise, Allison, Chloe, Pip and Miranda set off. John Cook was absolutely class, finishing 8th overall and setting a new Stroller record. Well done to all who finished – many of this lot were out on the fells a long time in some torrential rain. And never tell folk you 'only' did the 50!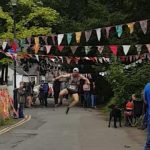 The marshals did a great job, recreating a beach party at Wasdale, a haven of madness for the 100 runners. A long shift for them too and, again, all done with a smile. Stroller supporters appeared all over the route, encouraging competitors and giving them a much needed boost when needed.
The weekend finished in true Stroller style with an evening in the pub. A great way to celebrate and share trials and tribulations. Well done to each and every one of you, whichever role you adopted.