We have had a plethora of marathons over the weekend in a England, Scotland and Germany. A handful of Strollers flew off to a Berlin to run this iconic marathon. Jen Deighton was first home – go on girl! – in a marvellous 3:29:24. Well done Jen, the training paid off. Gary Ramshaw, Glyn Davies, Tony Deighton and Kate Halshaw completed the Stroller line up.
Meanwhile in Hull, Gary Hargrave and Wendy Chapman both did themselves proud. Wendy ran an astounding 3:13 (roughly) and bagged herself the second fastest time by a Strollette in only her second marathon. Gary ran 3:20, another damn good time and solid run from this quiet guy.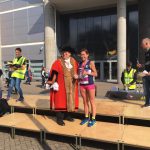 Up in Scotland, Lyne Valentine took on the challenging route at Lochness, finishing 3rd FV60 in a time of 3:39:34. She just keeps them coming!
On a more fun note, Sue Tate, Lisa Dixon-Hutchinson and Alyson Dixon headed to Disney for a run around the Magic Kingdom. All three ran the half but Lisa loved it so much that she ran the 5 and 10k too, with Charlie doing the kids run. It looked great, perhaps a Stroller weekend away?