Saturday kicked off the new NEHL season at Wrekenton. It was dry and firm underfoot and not a lot of mud about – but hopefully there'll be plenty to come. The men had a great start, ending up leading division 2! John Cook was our first counter but Callum Thom, taking his Stroller's vest on its debut outing, was close on his heels the whole way. Other counters, in no particular order, were Andy Duke, Andrew Forbes, Mark Anderson and Ritchie Gerry. Great running lads, keep it going!
The girls had a decent turn out and are currently 5th in Division 3. Clare Baharie, Hasina, Michelle O'N and Allison Bird were our counters. Well done girls.
However, we need anyone not marathoning this coming weekend to head to Drurdge Bay if we are to keep our current placing. So come n guys, dig out your spikes and enjoy the fun. It's a great team event and the camaraderie is second to none.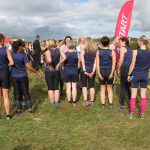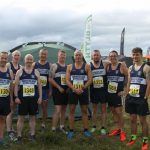 Sunday had the flat and fast, if the wind blows well, Redcar half and the more scenic and quiet Grewelthorpe run. Aly Dixon romped in as first Redcar Stroller in 1:17:27 with Chris Jackson clocking 1:24:43, Mike Hobson 1:27:51 and Mark Ralph achieving his first sub 90 too. Some cracking times there you lot, well done!
Chris Dwyer was 2nd overall at Grewelthorpe, class! Everyone seemed to agree it was a lovely run and we also received a lovely  e-mail from one of the organisers:
"I'd like to thank your club for supporting our race today. It was a real pleasure having you. I hope you all enjoyed the race. One of your guys got prized too. Pass on my thanks. I do a lot of fell running and will look out for you when I'm out and about. "