On Monday, the Strolletes went for their annual picnic. The weather was perfect for the chilled Prosecco albeit a tad warm for the 5k they ran to earn it!
It was, you've probably guessed, the Anita Nott 5k. This ladies only run, named after, and ran in memory of, a local runner, has become a firm favourite with our girls. Set in Jesmond Dene, the run is pretty and perfect for all levels – many ladies participate in this as their first race while others race it and win prizes. Prizes this year went to Gilbo (1st v35), Michelle O'Neill (2nd V50) and Wendy Chapman (4th overall). Get in girls!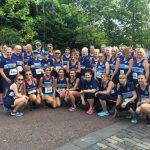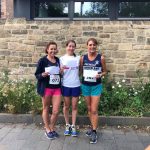 Durham Dales was another sunny trip out. The LDWA event is a challenge as opposed to a race but it's still nice to see us doing well. We achieved a 'podium place' in the 14m route with Colin Armour finishing in 2nd place. Not bad after a day in the Lakes, well done Colin and well done to all who completed the challenge.