The cross country season kicked off on Saturday at Wrekenton. Although a bit undulating, this is a pleasant course and lacked any of the customary boggy bits due to the sunshine and lack of rain. It was great to see so many first timers enjoying the run and, indeed, to have two of our newer ladies finish as counters!
The counters for the men were Ritchie, John Cook, Mark Anderson, Auld Ken, Andy D and Callum. Some great running by these speedies. The ladies had as counters Hasina, Julie, Jacqui and Jo. Well done girls – and well done to everyone who turned up. Remember Dan is organising lots of XC training runs so get yourselves along and give it a whirl.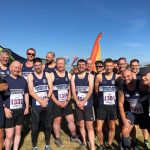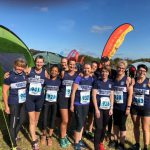 Redcar had the usual wind and the last three miles of this flat half marathon was tough. We still had some good results; a special mention to Wendy Chapman who was 4th lady in 1:32:09 (chip 1:31:18) and to Andrew Dobinson, next Stroller home in 1:34:41 (1:34:17).
The Trail Outlaws hosted another beautiful Penshaw run on Sunday, 10k, which was ran and marshalled by a good number of Strollers. Our own Jenna Louise was 3rd lady and Malcolm was 1st in his (canny old) age category. Class running you two, and indeed everyone who took on those hills.