Pier to Pier 2022
RESULTS NOW AVAILABLE AT https://my.raceresult.com/141844/results

Finally after 2 cancelled races the 2022 Pier to Pier Race will take place on 15 May, starting at 10am. All entries have been sold, you can check if you've got an entry here.
For those who have missed their dose of Pier to Pier action, we've put together a little video which will hopefully tide (see what I did there) you over until May, go here to view the video, there's also some great footage from a few years back with music courtesy of 'Big Derek'.
We're pleased to announce the race is once again sponsored by PGS Law who are a leading full service law firm in South Shields, providing expert legal advice to private and business clients. We're looking forward to seeing plenty of their team joining us on the day. We welcome the involvement of local businesses in supporting our event, if you would like to get involved please contact the Race Director.
This is one of the most scenic runs in the north east along the coastline from South Shields to Sunderland following the coastal paths.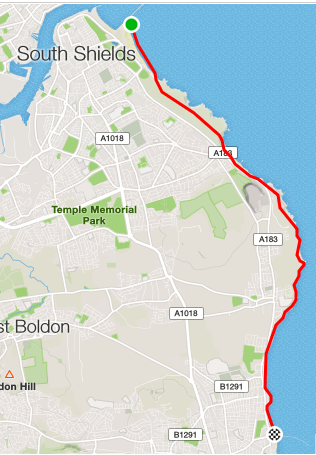 The Run starts besides the Pier at South Shields (A bus sevice is available from finish to the start before the race, the first bus will depart at 8am, the last one at approximately 9:30am – If you didn't pre-purchase your bus ticket when entering you can still use the bus, simply bring £2 and join the queue). After roughly a mile along the sandy beach the race moves to The Leas, here you can choose any route apart from the road or footpath down to Souter Lighthouse. Ahead of the lighthouse the course will be diverted to avoid the holes in the cliff, please follow the instructions of the marshals.
Anyone using the road or footpath apart from where directed by a race marshal, WILL be disqualified.
At Souter Lighthouse there is a water station and then the race moves to the coastal path down to Sunderland, eventually moving back on to the beach for the finish.
The race is approx 7 miles (11k) and starts at 10am.
In accordance with UK Athletics rules the use of headphones (with the exception of bone-conducting devices) is NOT PERMITTED
Over the years we have received a large number of questions in relation to the race so we have created a FAQ which hopefully will answer any questions you may have
Do I have to be a member of a running club to enter?
No anyone is able to enter whether they are affiliated to a running club or not.
Can I enter on the day?
There will be NO entries on the day.
Is there a set time I need to be able to run the course in to participate
The race has a cut off time of 2 hours, the distance is approximately 7 miles. Therefore providing you are faster than around 17 minute miles you'll be absolutely fine and very welcome. Last years final finisher completed the course in 108 minutes (that's an average pace of over 15 minute miles).
Is there water on the course? Water is available at approximately half way (just past Souter Lighthouse) and will also be available when you leave the beach after the finish.
How do I amend my race entry (change of club or swap my number to someone else)
Please email the Race Director at Pier2Pier@sunderlandstrollers.co.uk. If you wish to transfer your number please send your name, your replacements name / DOB / email / UKA number (if applicable), Club plus mobile phone number and t-shirt size. Note transfers will be allowed until 12PM on 14 May provided full details have been received. Any competitor found running with a Race Number that is not assigned to their name will be disqualified, removed from the results and not permitted to enter the race in the future.
Are there any any mementos for this run
There will be a goodie bag for all finishers, this will contain various items plus a Mars Bar & bag of crisps. We pride ourselves on providing unusual and innovative goodies and we aim to do the same this year.
Hi can you run to raise money for a charity?
Yes your more than welcome to run in aid of your chosen charity
Is there any return transport to south Shields after the race.
No sorry there is only transport from Sunderland to the start before the race
Do we collect our race number on the day or is it posted to us?
Race numbers will be posted out before the race, for late entries they can be collected on the day, this will be communicated on the website and Facebook Event Page. If you have moved house since entering (some entries date back to November 2019) please let us know, replacement numbers cost us money and are time-consuming to organise.
What time will the Buses leave Roker
First bus will leave Roker at 8am, the last at 9:30am
I entered the Pier2Pier but haven't received an email confirmation
Every entrant should have receive an email, please check your  junk or spam folder.
Is it possible to defer an entry should I be unable to run
Sorry but the policy is no refunds or deferrals, numbers however can be transferred up until 12PM on 14 May.