This year's London Marathon was the hottest on record, scuppering many PB chances but we still had some blistering times. Luke McCormack was first Stroller in 3:02:53 with Wendy Chapman our First Lady in 3:18. In that heat, these are marvelous times (to be fair, they're damn good in any conditions). Dan took advice from our Olympian and took hot baths to acclimatise – it didn't work but he traumatised everyone with the photographic documenting. I can't possibly let the outside world see so I'll include a better photo below! A massive well done to everyone who ran and I hope the rehydrating at the Nag's Head was worth it.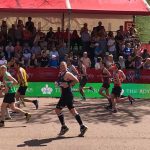 Sue Tate made sure we maintained our international presence by heading to Vienna – any excuse for a holiday really. Well done Sue, it looked beautiful.
Chris Dwyer, hot on the heels of his excellent marathon time, came 4th in the Washington Trail 10k.
Mid week was busy too, with many partaking in their first relay. The Neptune Relays are great to join in and it was brilliant to see so many of our newer Strollers joining in the fun. There were smiles all round so let's hope everyone will be back for more.